Sync all your financial data from Magento 2 to QuickBooks Desktop to accurately calculate your revenue
EAutomatically sync your sales orders, sales invoices and credit memos with taxes, shipping fees, discounts, and payment methods
Guest orders can now be synchronized
Sync customer data & product data from Magento 2 to QuickBooks
Automatically sync all stock value from QuickBooks Desktop to Magento 2
Map tax rates of Magento 2 orders to QuickBooks Online
Sync discount from Magento 2 products to QuickBooks Desktop
CE 2.2.x-2.3.x,EE 2.2.x-2.3.x
Details
QuickBooks is an ideal business accounting software for various reasons predominantly for its ability to save time on bookkeeping and paperwork. It's an affordable tool that helps you create a projected balance sheet, profit, and loss statement and cash flows statement in the format recommended by the U.S. Small Business Administration.
It helps you to easily manage your business finances and generate important business reports to make informed decisions.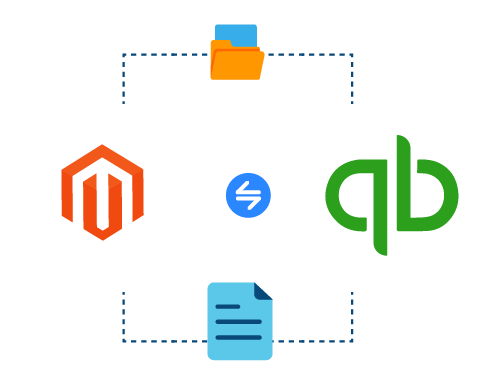 What To Expect From Magento 2 QuickBooks Extension?
With our Magento 2 QuickBooks extension, you can connect your Magento store and sync customer's information, product details, orders, payments, invoices, inventory and etc. to QuickBooks. Therefore, it helps you to effectively manage your accounts and finances.
The new orders generated by customers in Magento 2 will be synced automatically. Old orders and invoices can be manually synchronized. This extension will enable easy credit memos synchronization from Magento 2 Invoices created by merchants are dynamically created in QuickBooks Desktop.
Tax Synchronization
Taxation policies can be different and require an optimal solution to manage your tax calculation. By mapping tax codes between Magento and QuickBooks, you can ensure tax calculation accuracy.
You won't need to reenter the shipping address and the tax rate in QuickBooks as they are imported automatically. This drastically reduces the time and data redundancy.